Tibetan New Wave Cinema Comes to Bloomington: An interview with Pema Tseden
For centuries, Tibet has been a virtual playground for the imagination of the world beyond it. Even in recent decades, popular cinema, in the East and West, has taken imaginative freedoms when portraying Tibet. Countering these fanciful portrayals of Tibet in popular film is one of the motivations of Pema Tseden, who has emerged at the forefront of a new movement in Tibetan filmmaking. In his films, he presents a decidedly Tibetan point of view, one to which Tibetans themselves can relate because it portrays everyday stories of love, suffering, and personal struggles. In this way, one of his goals is, in his own words, "for anyone watching [his films] to understand these common, human stories."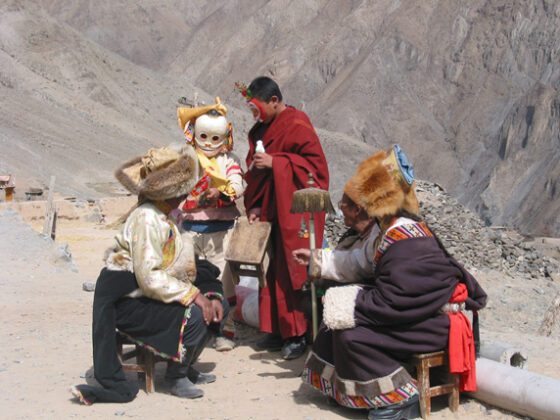 The storylines of his films take their inspiration from Tibetan folk tales, epics, and operas but are concretely set in contemporary contexts of everyday life, whether in rural villages or urban centers. For this he draws upon his own experience with the tensions and contradictions of life in modern Tibetan society and he readily involves the local communities where his filming takes place, weaving the texture of their daily lives into his films.
Recently, the IU community had a rare chance to engage with Pema Tseden and his films during a three-week long film series, Tibetan New Wave Cinema, at the IU Cinema. The series was sponsored by the Inner Asian and Uralic National Resource Center (IAUNRC), Sinor Research Institute for Inner Asian Studies, Department of Central Eurasian Studies, and the IU Student Board, attracting nearly 400 people. All three of his feature-length films—Silent Holy Stones (2005), The Search (2009), and Old Dog (2010)—were screened, and Pema Tseden himself was invited to interact with the audience at the presentation of his most recent film.
The IAUNRC had a chance to catch up with Pema Tseden and chat about his past year based in New York City and his plans for the future.
IAUNRC: So, you've been to a lot of film festivals this past year. What was your experience from them?
PT: Well, before coming to the U.S., I had shown Old Dog at several international film festivals. After coming to the U.S….in July, I went to the festival in France, La Rochelle International Film Festival, where I screened all my films… This benefitted me a lot, being able to go to a lot of theaters, to meet and talk with a lot of film people, and to show my films to a lot of viewers…. Ultimately, this resulted in plans for my main film, Old Dog, to be distributed in theaters in France, beginning January of next year.
Then, in America,…the main festivals I went to were the San Francisco Film Festival,…the Seattle Film Festival, and the Brooklyn Film Festival. I've never shown my films in so many places in America before—I've been to many festivals in countries other than America, but you could say that one of the biggest outcomes of my stay in the U.S. has been to screen films in so many theaters and universities across North America…to show my films to more viewers, to expand the audience, and to be able to discuss them with a lot of people…. A huge benefit for me was being able to understand the American film culture and way of doing things. And I am also making plans with a couple of companies to distribute my films to schools, theaters, and as DVDs in the future.
IAUNRC: So now that the audience for your films is growing broader, with your trips abroad and in the U.S., will it affect the way you make your films?
PT: After visiting a lot of places, showing films to a lot of people in America, I've come to have a better understanding of what, in my films, Tibetans understand and what others don't, and I've gained a lot of ideas about how to tell my story in a way that many people can understand. I've gained an understanding of how to do things—how to tell the story, how to work the film—in the future.
IAUNRC: What are your plans for future projects?
PT: I have plans for several other films. I've finished writing the stories for 3 or 4 other films, and I have several other stories in mind. They're all feature-length films. I also have plans to make some documentary films, one or two to be exact. For instance, I first met the novice monk, the one who was in Silent Holy Stones, in 2002, when I was making a short film for the Beijing Film Academy.… He was probably about 11 or 12 at the time. Then when I was making a longer film, we travelled to many places looking for actors and in the end used them [the monks] again in the film.... Then, after we finished making this film, after about 2 or 3 years, he gave up his vows…. So we have a lot of material to make a film about him. After I return, when I have time, I plan to put together material we have for him, edit it, and make a documentary.
IAUNRC: Do you have other plans outside of films?
PT: Other than films, the main thing I have planned is for my writing, for writing some novels. Currently, I have a book of short stories published in Chinese, then in 2009 I published a novel in Tibetan, then another in Tibetan was published this year…. Translation was one of my majors when I was a graduate student in Lanzhou. Many short, mid-length, and longer stories that I have translated into Chinese from Tibetan have also been published. I plan to translate a collection of modern Western short stories into Tibetan and publish them as a book. In Tibet, there aren't many translations of modern short stories into Tibetan, and so there is not much familiarity with them. I also have some ideas to compile a book that collects several good works from a few Tibetan authors and translate them into Chinese. But mainly, I plan to focus on my own writing, my own novels. I plan to write several short novels and about three longer novels.
IAUNRC: How about plans for training future filmmakers?
PT: Oh yes, these days, particularly since I made my first film Silent Holy Stones, there are a lot of young people who enjoy filming and want to work in film. In the future, if I have the opportunity, I would like to establish such a class to train people in filmmaking…. They're still ideas at this point, but something I've been thinking about for a while.